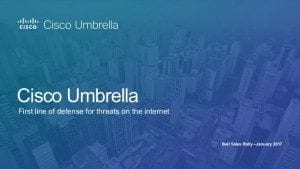 Cisco Umbrella is a cloud security platform that provides the first line of defense against threats on the internet wherever users go. Cisco Umbrella uses the internet's infrastructure to block malicious destinations before a connection is ever established. By delivering security from the cloud, not only do you save money, but we also provide more effective security.
Cisco Umbrella uses DNS to stop threats over all ports and protocols — even direct-to-IP connections. Stop malware before it reaches your endpoints or network. Instead of proxying all web traffic, Umbrella routes requests to risky domains for deeper URL and file inspection. The product effectively protects without a delay or performance impact.
Even if devices become infected in other ways, Umbrella prevents connections to attacker's servers.
Stop data ex filtration and execution of ransomware encryption.
Your users and apps have left the perimeter.
Umbrella provides visibility into internet activity across all devices, over all ports, even when users are off your corporate network.
Umbrella learns from internet activity to automatically identify attacker infrastructure staged for current and emergent threats. Umbrella captures and understand relationships between malware, domains, IPs, and networks across the internet.
What this gives you:
Threat intelligence
Cisco-Delivered Security
Off Network Coverage
Fast incident response
Cloud Services report
Protect Guest WiFi in Minutes
Combat Targeted Attacks
Web filtering
Extend Advanced Threat Protection
Cisco describes Umbrella as a cloud-delivered secure internet gateway, that stops current and emergent threats over all ports and protocols. It blocks access to malicious domains, URLs, IPs, and files before a connection is ever established or a file downloaded.
What can Cisco Umbrella do for a network?
Cisco Umbrella provides IT with the visibility needed to protect Internet access across all devices on a network, all office locations, and any roaming users with a personal or business device. By combining Umbrella with Cisco Cloudlock's Cloud Access Security Broker technology, umbrella lets organizations identify which SaaS apps are being used and enforce policies to block risky or inappropriate apps.
Umbrella is able to stop attacks before they launch: Umbrella resolves over 100 billion internet requests every day and correlates this live data with over 11 billion historical events. This is analyzed to identify patterns, detect anomalies, and create models to uncover attacker infrastructure being staged for the next threat.
Umbrella uses existing Cisco Security tools including machine learning to uncover known and emergent threats, blocking connections to malicious destinations at the DNS and IP layers; For example, Cisco Talos threat intelligence to block malicious URLs at the HTTP/S layer; and Cisco Advanced Malware Protection (AMP) detects malicious files and block them in the cloud.
Contact our technical advisers today to see how this solution can protect your business!